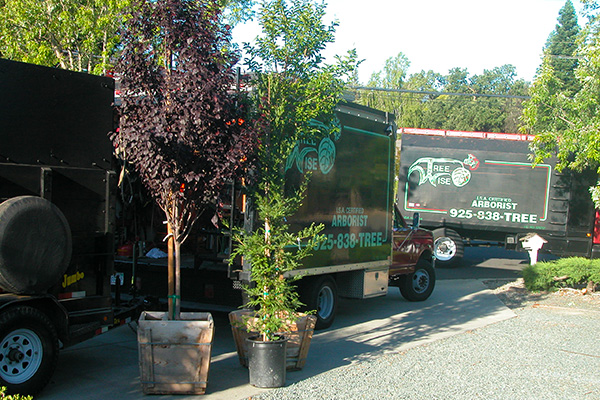 We're Here to Help
Because tree care shouldn't be complex…
At Tree Wise we make caring for your home and trees easy and stress free by offering top of the line services performed by our trained, highly skilled arborists. With services such as tree planting and stump removal, along with pruning and pollarding, we offer you the added advantage of efficiently handling all of your tree care needs through one company.
Leaving your home radiating with natural beauty is our top priority. From planting a new addition to efficient removal of unwanted material, we can make your tree care seamless and your yard flawless.
Tree Pruning
In the tree business, this is also known as "thinning." This is very important to a trees health and the safety of others. The goal is to maintain the tree's natural shape while removing the parts that may be at risk of falling from the tree, or are weighing the tree down unnecessarily. It will give you a filtered view of the sky. Because of the moderate weather in California, this can be done at any time of the year.
Pollarding
This is a specialized form of tree pruning in which the upper branches of a tree are pruned. They will be pruned in the same area every year, which will form a swollen area of callous tissue, also known as a knuckle. Pollarding promotes growth that is dense in foliage and also in the branches.
Tree Removal
There are many reasons trees are removed. Sometimes the tree is dead, dying, or has a disease.  Other times it is because of safety when a tree becomes a possible hazard. Or maybe it's as simple as being too messy or covering up a view and blocking the natural sunlight. Are you concerned about roots disrupting your landscaping or structures? Whatever your reason is, we have you covered. Tree Wise has all of the proper equipment and experience to do the job safely and efficiently.
*Please note, some cities require a permit for removing trees.
Stump Removal
Are you tired of looking at that stump in your yard. Has anyone ever tripped over it? How nice would it be to have a nice flat yard without the stump in the middle of it? Have you tried to remove the stump yourself? It can be a very difficult process, but with over 20 years of experience, we can help you with grinding out old or new tree stumps.
Tree Planting
Anyone can plant a tree, but it takes skill to make it grow. Because of our landscaping background and experience as arborists, we are able to help you pick the right trees and find the perfect placement to compliment your home. We also offer to take the hassle of purchasing the trees off your shoulders. To top it all off, all of our trees are covered by a one year warranty so you can rest assured your yard will grow happy and healthy.

Consultation
This often gets confused with an estimate, but our estimates are free. Our consultations are a completely different thing. We can evaluate the safety of your tree, provide an appraisal of your trees value, or provide you with arborists opinion.

" Mr. Wise knows his trees — their names, their growing characteristics, and how best to prune each one… anybody can run a saw, but knowledge and caring makes a difference."
"We found Darrell very knowledgeable and appreciated his guidance with our trees. We have recommended Tree Wise to others and will definitely use their service again!"
"After about 2 hours my nightmare tree was gone! They even, somehow, got rid of the stump… They were awesome!"